Case Studies
Wrest Park restoration project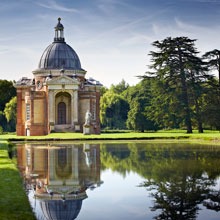 British Hardwood Tree Nursery has won a contract to supply English Heritage with over 22,000 trees and plant protection accessories for a restoration project in Bedfordshire.
The project, to restore the Old Park at Wrest Park and to revive one of Britain's largest and most important 'secret gardens', requires thousands of mixed native trees including English Oak, Field Maple and Hornbeam.
Restoration of Wrest Park began in 2010 and as part of the project, an historic gardens apprenticeship scheme is giving eight novice gardeners the opportunity to be involved in the restoration whilst gaining valuable skills and qualifications. It is hoped that, once complete, this 90-acre historic landscape and French-style mansion will take its rightful place amongst the country's great garden attractions.
35,000 plants supplied to Lincolnshire County Council
British Hardwood Tree Nursery recently has won a contract to supply Lincolnshire County Council with over 35,000 plants and sundries under the council's Hedges and Small Woodland Grant Scheme.
Designed to enhance the landscape and benefit wildlife, the scheme provides hedging plants and woodland trees (including protection) at 50% of the normal cost to the applicant, up to a maximum contribution of £1000.
The established nursery will collate and distribute a range of plants including Hawthorn, mixed species, woodland trees and planting sundries to approximately 60 grant recipients in January 2013.
46,500 trees supplied as part of the Glastir Woodland Creation scheme
British Hardwood Tree Nursery recently supplied a total of 46,500 trees to South Wales, as part of the Glastir Woodland Creation grant scheme, which is organised by Forestry Commission Wales.
The new woodland creation grant scheme is available to all landowners across Wales with more than 0.25 hectares of land, providing the land is deemed suitable for new planting by Forestry Commission Wales and conservation bodies, and that there is no conflict with other agri-environmental schemes.
Of the 46,500 trees provided by British Hardwood Tree Nursery, 23,000 were Oak and 10,000 were Beech, with the remaining 13,500 made up of a mix of native broadleaves.