Plant Specification Guide

About our trees & hedging plants
Regions of Provenance & Seed Zones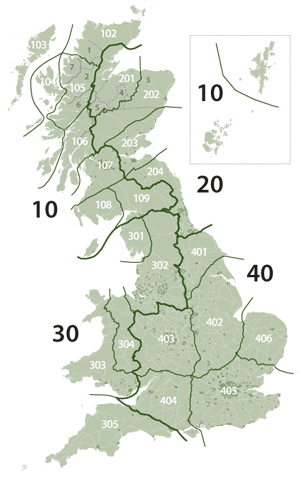 Key

Regions of provenance


Native seed zones


Indigenous Scots pine seed zones
(continuous lines are 'exclusion zones')
1. North
2. North Central
3. Northeast
3. East Central
4. South Central
5. Southwest (exclusion zone)
6. Northwest (exclusion zone)
Seasonality
The bare root season extends from early November through to mid-April; however, this may vary slightly subject to weather conditions and autumnal and spring temperatures.
During this period, the plants are dormant and can be lifted and transplanted.
National Plant Specification

All our plants are specified in accordance with the National Plant Specification prepared by the Horticultural Trades Association (September 1997).
Supplier Certification (FRM)

We are an approved supplier of plant material in accordance with the Forest Reproductive Material Regulations FRM (2002) and as such we are recognised by the Forestry Commission. Supplier Number SO172. Supplier documentation can be issued where required.
Plant Provenance
All of our plants are contract grown in the UK and are of UK provenance, subject to the availability of seed supply.
Plant Passports
We are authorised by DEFRA to issue Plant Passports (Plant Passport No. UK E/W 56488 RP) and are subject to annual inspections to ensure plant health and compliance.
Packaging
All of our bare root plants are root dipped in Broadleaf Root-Dip and wrapped in forestry co-extruded bags prior to despatch or collection.
A co-extruded bag is white on the outside, to reflect the sunlight, and black on the inside to help retain moisture around the roots.
Plant Age Key & Description

1+0
1 year old seedling
A strong but slender single stem plant
2+0
2 year old seedling
As per above with a wider root collar diameter
0+1
1 year old rooted cutting
A strong but slender single stem plant
1u1
2 year old seedling undercut after first year
A strong seedling undercut to reduce top growth and develop roots
1+1
2 year transplant.
1 year in seedbed & 1 year lined out
A strong plant with well-developed roots and slight branching
2+1
3 year transplant.
2 years in seedbed & 1 year lined out
A heavier plant with good roots and strong branching
1+2
3 year transplant.
1 year in seedbed & 2 years lined out
A heavier plant with good roots and strong branching
2+2
4 year transplant.
2 years in seedbed & 2 years lined out
A heavy plant with a large root structure and branching